Amazing Dates Adelaide & South Australia
Special experiences for two in Adelaide & South Australia ideal for proposals, anniveraries, birthdays and other special occasions…
Experiences Book or buy Vouchers
Adelaide Oval Roof Climb – Daytime Climb the roof of the Adelaide Oval Stadiums roof! The perfect gift for any cricket fan, or anyone who wants to get a unique view of the Adelaide skyline and the Adelaide Hills. (from Adrenaline)

Adelaide Oval Roof Climb – Twilight Climb the roof of the Adelaide Oval Stadiums roof! The perfect gift for any cricket fan, or anyone who wants to get a unique view of the Adelaide skyline and the Adelaide Hills. (from Adrenaline)

Hot Air Balloon Barossa Valley Adelaide Everyone should experience Hot Air Ballooning at least once. The tranquil exhilaration of floating with the wind at sunrise over beautiful scenery is absolutely unforgettable. Book now! (from Adrenaline)

Tours to Book Online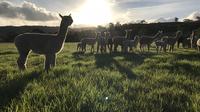 Alpaca Farm Day tour including Gourmet BBQ lunch and Adelaide city transfer, Adelaide
A whole day experience of Australian rural lifestyle on a world class Fleurieu Peninsula alpaca farm, with the convenience of Adelaide pick up/return.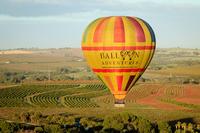 Barossa Valley Hot Air Balloon Ride with Breakfast, Barossa Valley
Soar over the beautiful Barossa Valley at sunrise during a hot air balloon ride that offers incredible views of the scenic landscape. Admire the colorful sunrise and morning light reflecting on the vineyards as you quietly glide through the air. Your expert pilot shares informative commentary about the region and hot air ballooning throughout your experience. Following your flight, enjoy a delicious breakfast that features fresh products from artisan producers in the Barossa Valley.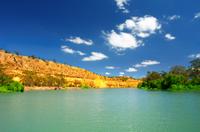 Murray River Riverboat Tour Including Lunch from Adelaide, Adelaide
Trade in the hustle and bustle of Adelaide for a day in the peaceful, picturesque Murray River region with this day trip to Mannum. Take a 2-hour cruise on the scenic Murray River, and enjoy morning tea and lunch on board while you spot birdlife like pelicans and cockatoos. Learn about Mannum's paddle steamer history, and visit the Melba's Chocolate Factory in Woodside. Views of the Adelaide Hills will keep you entertained during the 3-hour round-trip coach ride.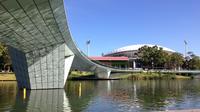 Taste of Adelaide Private Tour, Adelaide
This tour caters for the quick trip to Adelaide for the "I want to see as much as I can" person! Cruise ship passengers, long airport layovers or short stays are perfectly suited in this tour. We will pick you up and deliver you back at the times required in the comfort of an air-conditioned car catering for a max of 6 passengers. The tour will showcase sights of Adelaide with short stops to view various sites. On to the Adelaide Hills with stops at wineries, maybe visit to a wildlife park and other points of interest. We then have lunch (at your cost) in Hahndorf, followed by a drive along the coast back to your pickup point. This tour can be modified to suit your interests.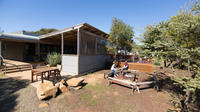 2-Day Kangaroo Island Adventure from Adelaide with Accommodation, Adelaide
Travel to Kangaroo Island and sample a pristine nugget of the natural goldmine that is Australia. Check out a sea lion colony in Seal Bay, give sand boarding a shot in Little Sahara and perhaps head out on a walk in search of Vivonne Bay's wildlife. Spot koalas in Hanson Bay Wildlife Sanctuary, clamber about the bizarre natural sculptures of Remarkable Rocks and peer out at the ocean through the natural overhang of Admirals Arch. With plenty of activities on offer and abundant adorable wildlife, this two-day trip makes for a unique island getaway.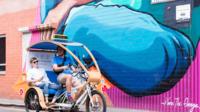 Adelaide 90-Minute Pedicab Tour: Street Art Experience, Adelaide
This tour is for 2 people that will cover all of Adelaide's prominent street art walls – in less time and no effort – on one of our electric-assisted EcoCaddies! This experience will take you on a 90 minute journey on our pedicabs where you will visit main city sights like The Art Gallery of South Australia, Adelaide's bustling east-end, the hip laneways of the western CBD all while gliding by and taking in the best of Adelaide's street art. This experience features a fascinating off-the-beaten-path mix of Adelaide's history, coffee & cafe scene, street art, art galleries and design linked seamlessly with a leisurely and beautiful ride through Adelaide's sunniest and greenest neighbourhoods. you'll explore the rich history of Adelaide as the artisan and festival capital of Australia, all without lifting a finger or breaking a sweat as our highly-trained local guides pedal you around the city.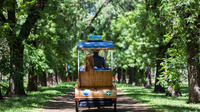 Adelaide 90-Minute Pedicab Tour: Scenic Green & River Experience, Adelaide
Adelaide has one of the most unique city layouts in the world largely because it is surrounded by a vast sea of green space called The Adelaide Parklands. On this experience you will escape urbanity and getaway into the natural surroundings that characterises Adelaide. you'll venture through the cycle-dedicated Adelaide Parklands Trail along a route where you will encounter Adelaide's cultural institutions, iconic buildings, The River Torrens, North Adelaide's resident horses, city parks, gardens, award-winning landscape architecture and much more. You will bare witness to a beautiful blend of urbanity and nature in one seamless journey from the comfort of our luxurious bamboo-bodied electric-assisted vehicles, operated by your highly trained local host.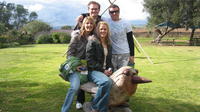 Private McLaren Vale Intimate Winery Day Trip from Adelaide, Adelaide
The price quoted includes up to 6 guests. McLaren Vale, where the vines meet the sea. Only a 30-minute drive from Adelaide, this beautiful wine Mecca province has a Mediterranean climate and is arguably one of the premier Shiraz growing regions in the world. A tiny piece of paradise with two passions food and wine'. Driving over the first row of hills, you will be met by a vista of undulating vineyards with the backdrop of the picturesque wave-like Mt Lofty Ranges rolling to the sea. Every tour is tailored to suit the individual and focuses on visiting niche, boutique wineries as well as major iconic vineyards and main regional attractions.
Experience OZ

See activities in Adelaide and South Australia from ExperienceOZ