Amazing Dates Adelaide & South Australia
Special experiences for two in Adelaide & South Australia ideal for proposals, anniveraries, birthdays and other special occasions…
Courses, Experiences, Tours – More things to do
Adelaide Oval Roof Climb – Night Climb the roof of the Adelaide Oval Stadiums roof! The perfect gift for any cricket fan, or anyone who wants to get a unique view of the Adelaide skyline twinkling at night. (from Adrenaline)

Adelaide Oval Roof Climb – Daytime Climb the roof of the Adelaide Oval Stadiums roof! The perfect gift for any cricket fan, or anyone who wants to get a unique view of the Adelaide skyline and the Adelaide Hills. (from Adrenaline)

Adelaide Oval Roof Climb – Twilight Climb the roof of the Adelaide Oval Stadiums roof! The perfect gift for any cricket fan, or anyone who wants to get a unique view of the Adelaide skyline and the Adelaide Hills. (from Adrenaline)

Hot Air Balloon Barossa Valley Adelaide Everyone should experience Hot Air Ballooning at least once. The tranquil exhilaration of floating with the wind at sunrise over beautiful scenery is absolutely unforgettable. Book now! (from Adrenaline)

Tours to Book Online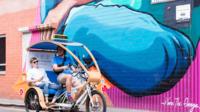 Adelaide 90-Minute Pedicab Tour: Street Art Experience, Adelaide
This tour is for 2 people that will cover all of Adelaide's prominent street art walls – in less time and no effort – on one of our electric-assisted EcoCaddies! This experience will take you on a 90 minute journey on our pedicabs where you will visit main city sights like The Art Gallery of South Australia, Adelaide's bustling east-end, the hip laneways of the western CBD all while gliding by and taking in the best of Adelaide's street art.
This experience features a fascinating off-the-beaten-path mix of Adelaide's history, coffee & cafe scene, street art, art galleries and design linked seamlessly with a leisurely and beautiful ride through Adelaide's sunniest and greenest neighbourhoods. you'll explore the rich history of Adelaide as the artisan and festival capital of Australia, all without lifting a finger or breaking a sweat as our highly-trained local guides pedal you around the city.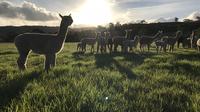 Alpaca Farm Day tour including Gourmet BBQ lunch and Adelaide city transfer, Adelaide
A whole day experience of Australian rural lifestyle on a world class Fleurieu Peninsula alpaca farm, with the convenience of Adelaide pick up/return.