Flyboarding & Jet Pack experiences on the Gold Coast
Jet Pack and Flyboard are the new exciting experiences on the Gold Coast

Experiences Book or buy Vouchers
Flyboard Gold Coast – 10 Minutes for the price of 5 Minutes! It's time to release your inner Super Hero! Fly like Super Man, dive like Aqua Man and surf through the sky like the Silver Surfer on an incredible Fly Board right in front of Sea World Resort. (from Adrenaline)

Jet Pack AND Board Combo, In-Water Training PLUS 20 Minute Flight Time – Gold Coast Try the most exciting new experiences in Australia! The Jet Pack & Jet Board Experiences are awesome, safe adventures and almost anyone can do it with minimal training. (from Adrenaline)

Jet Pack AND Board Combo, In-Water Training PLUS 30 Minute Flight Time – Gold Coast Try the most exciting new experiences in Australia! The Jet Pack & Jet Board Experiences are awesome, safe adventures and almost anyone can do it with minimal training. (from Adrenaline)

Jet Pack OR Board Flight, In-Water Training PLUS 10 Minute Flight – Gold Coast Try one of the most exciting new experiences in Australia! The Jet Pack & Jet Board Experiences are awesome, safe adventures and almost anyone can do it with minimal training. (from Adrenaline)

Jet Pack OR Board Flight, In-Water Training PLUS 15 Minute Flight – Gold Coast Try one of the most exciting new experiences in Australia! The Jet Pack & Jet Board Experiences are awesome, safe adventures and almost anyone can do it with minimal training. (from Adrenaline)

Tours to Book Online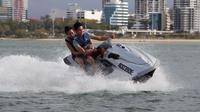 Gold Coast Combo: Jet Ski Hire, Parasailing and Flyboard for Two, Gold Coast
Combines three watersport activities on the Gold Coast including a 30-minute jet ski hire to share, tandem parasail (8 minutes in the air) and a 5-minute flyboard session for each person.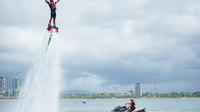 Flyboard the Gold Coast, Gold Coast
The latest craze to hit Australia's shores has finally arrived… flyboard extreme! It is surprisingly easy to fly like Iron Man and dive like a dolphin with this amazing new experience. After a short briefing, the friendly staff will have you up in the air usually within 10-minutes. You will be the envy of all your friends and have some amazing new photos to showcase. It is your time to shine!!!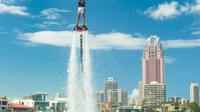 Jet Ski Safaris & Jetpack or Flyboard Experience, Gold Coast
Blast your way along the beautiful sub tropical shores of South Stradbroke Island. You'll head north for 10km weaving your way up past beautiful islands, beaches and sandbars, and through mangroves. With this awesome experience, you get to choose whether you want to try jet packing or fly boarding as you propel yourself high above the water using the water power of the jets. You'll be addicted and back to try it again!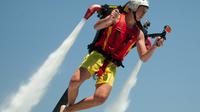 Gold Coast Jetpack, Flyboard or Jetovator Flight Experience, Gold Coast
Enjoy this action packed 10 min Gaurenteed AIRTIME Flight jetpack or flyboard experience on the Gold Coast and glide through the air as you discover the gold coast waterways a different way. you'll feel like you're flying on this James Bond inspired experience as you launch up to 33-feet (10-metres) through the sky. This exhilarating experience is for all skill levels as you will have a personalized professional guide with you along the way. If you're after a unique memorable experience then this is for you or anybody of any age.