Hiking, Camping and Bush adventures Queensland
Hiking, Camping & Bush Adventures Brisbane & SE Qld
Courses, Experiences, Tours – More things to do
1770 Survivor-style Island Camping Experience – 3 Nights Survivor-style Island Camping Experience – 3 Nights (from Adrenaline)

1770 Middle Island Day Trip with Kayaking, Snorkelling and More Middle Island Day Trip with Kayaking, Snorkelling and More (from Adrenaline)

1770 Survivor-style Island Camping Experience – 2 Nights Survivor-style Island Camping Experience – 2 Nights (from Adrenaline)

Tours to Book Online

Brisbane Valley Rail Trail + Scenic Rim Hike Be one of the first to cycle the newly opened Brisbane Valley rail trail, now Australia's longest official rail trail. Whilst in the region, you will take the opportunity to hike the Scenic Rim trek graded as one of the Great Walks of Australia. Fully guided throughout, 5 nights luxury accommodation, gourmet meals and incredible memories. Whilst not as famous or flashy as it's Gold Coast or Sunshine Coast cousins, inner south-east Queensland is an adventure paradise. World class walking, the new Brisbane Valley Rail Trail and yes winemaking, are all here. And all within short reach of Brisbane. (from Roar Adventures)

5-Day Cooloola Great Walk from Noosa Heads to Rainbow Beach, Noosa Heads
Dust off your hiking boots and get ready to do The Cooloola Great Walk, a new bushwalking experience for 2018 that showcases the very best of the Cooloola Coast's outstanding natural attractions. This 55-mile (88 kilometre), 5-day, 4-night, fully-guided, self-sufficient hike, links the Noosa Northshore to Rainbow Beach via the 500,000 year old Cooloola Sandmass which forms unique dune, perched lake and vegetation systems. Just 2 hours north of Brisbane is a remote region of 200 meter high giant sandhills, hidden sub-tropical and tall eucalypt forests, where you'll be surrounded by nature's chorus.See unspoiled 'River of Mirrors' in the Noosa Everglades and stark volcanic crags formed over 25 million years. To the east is Teewah Beach and Pacific Ocean where migrating Humpback whales can be seen during their annual migration from June to November. Watch the sunset over western volcanic peaks, witness the Milky Way and Southern Cross in the night sky and wake to the birdsong.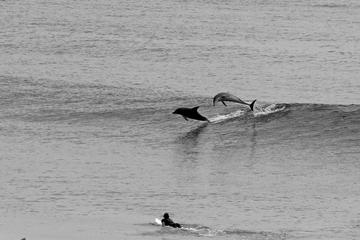 Overnight Tweed Coast Camping and Surfing Getaway From The Gold Coast, Gold Coast
This Tweed Coast overnight surfing getaway provides a 2-day surf camp experience as you discover this section of the Australian coast. Surf all day, make new friends, spend the night camping, and enjoy provided meals, including an Aussie barbecue. Select your pickup location when booking; several locations are available from Brisbane to Gold Coast to Byron Bay.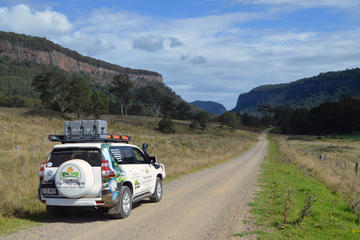 Cambanoora Gorge and Queen Mary Falls Spectacular 4WD Adventure, Brisbane City
Cascading waterfalls, breath-taking mountain scenery, kangaroos in the wild, home-made morning tea overlooking a beautiful waterway, a delicious BBQ lunch in the bush, guided forest walk, close encounters with majestic native birdlife, an unforgettable 4WD journey through the rugged Cambanoora Gorge (including 14 magnificent river crossings) and a cold drink at a historic Australian country hotel (own expense). All this in one unforgettable day tour departing Brisbane!! Travel in air-conditioned comfort in our Toyota Landcruiser 4WD vehicle in a relaxed small group atmosphere and experience one of the most beautiful destinations in Queensland, all on Brisbane's doorstep. Suitable for all ages, this tour will offer memories that will last a lifetime!!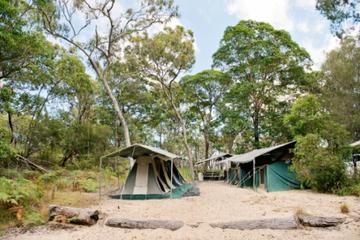 2-Day Moreton Island 4WD Camping Tour from Brisbane, Brisbane
Explore Moreton Island in two-days. Travel by 4WD from Brisbane, enjoy pristine beaches, snorkeling ship wrecks, sand tobogganing on giant sand dunes and overnight camping. This Moreton Island 4WD camping tour is pure fun and will leave you with plenty of memories. This tour operates with a maximum of 16 people, ensuring you'll enjoy a small-group experience your expert guide.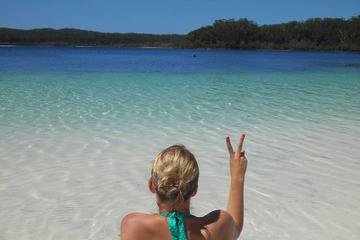 Overnight Fraser Island Camping Safari from Brisbane, Brisbane
This overnight Fraser Island camping adventure covers the islands greatest attractions, including Lake McKenzie. With all equipment supplied including sleeping bags and mattress, with tents erected at the camp site all year round there is no hassle upon arrival. Evening meals, breakfast and lunch are provided and prepared fresh in a permanent camp kitchen with log timber seating, tables, fridge and gas cooking facilities.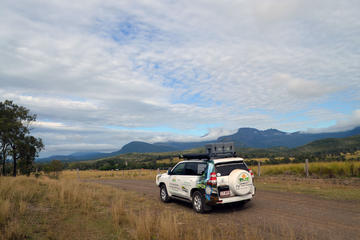 Historic Spicers Gap and Great Dividing Range 4WD Tour from Brisbane, Brisbane
Home-made morning tea in the Australian bush, a fully guided walk through world-heritage rainforest, panoramic mountain scenery, unforgettable 4WD tour through the mountains along the historic Spicers Gap road, mouth-watering BBQ lunch in the mountains, awe-inspiring views from Governors Chair Lookout, the opportunity to see koala and kangaroos in the wild and wine and cheese overlooking the world-famous Great Dividing Range!! This day tour has it all, providing unforgettable memories that will stay with you forever. Departing Brisbane, this very special day tour, catering for a small group of only 4 guests in our luxury Toyota 4WD vehicle, gives you the opportunity to meet new friends whilst discovering one of the most historic and breath-taking areas on Brisbane's doorstep.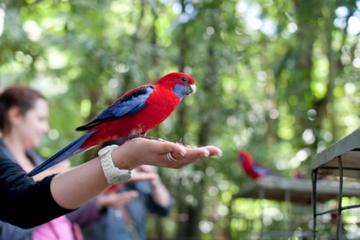 Springbrook National Park Discovery Full-Day Bushwalking Tour, Brisbane
Explore Springbrook National Park with an expert guide on a full-day tour from Brisbane. The park is part of the Gondwana Rainforests of Australia World Heritage Area, and boasts waterfalls, subtropical and temperate rainforest and stunning lookout points. Enjoy a rainforest walk and picnic lunch within view of Purlingbrook Falls, plus time to take a dip in the natural freshwater pools. Hotel pickup and drop-off is included on this small-group tour that operates with a maximum of 15 people, ensuring a more personalized experience with your guide.