Horse Riding Brisbane, Gold Coast, Sunshine Coast and Cairns
Horse Riding around Brisbane, Gold Coast, Sunshine Coast and in North Queensland
Courses, Experiences, Tours – More things to do
Horse Back Riding Tour – Cape Tribulation This Cape Tribulation horse riding tour caters for all types of riders and levels. It's the ideal way to see this beautiful part of Australia and have fun doing it. (from Adrenaline)

Horse Ride Through Farmland and Forest with Lunch – Gympie Jump into the saddle and horse ride through stunning forest and bushland, finishing at the Mt Goomboorian lookout, where youll marvel at the beauty of Rainbow Beach, Fraser Island and Mt Ninderry. Youll stop for a tasty lunch at the rustic yet idyllic Silky Oak Tea Gardens. (from Adrenaline)

Full Moon Beach Horse Riding, No Experience Necessary – Rainbow Beach Horse ride along the idyllic Rainbow Beach at sunset. The magical colours change from fiery orange to dusky pinks and purples and finally inky black, while youre on horseback. Watch the full moon rise over the ocean and appreciate the beauty of this serene experience that gets you back to nature. (from Adrenaline)

Rainbow Beach Horse Riding, No Experience Necessary – Rainbow Beach A bucket list item for many; riding a majestic horse along an idyllic beach is a truly memorable experience. This horse riding trip will make that dream a reality. Take in the tropical beauty of Rainbow Beach, riding a gentle, well educated horse. Your qualified guide will even take photos for you! (from Adrenaline)

Bareback Ocean Horse Riding, Experience Needed – Rainbow Beach Get back to nature with this spectacular horse riding experience. Youll ride a track through a small section of bushland and then onto the stunning Rainbow Beach. Youll ride bareback into the ocean, allowing your beautiful horse to walk through pristine turquoise water. (from Adrenaline)

Horse Trail Ride, 90 Minute Byron Bay Sunrise or Sunset Horse Ride – Byron Bay Trot through the shallows of Belongil Beach on horseback and delight over the spectacular views of sunrise or sunset. This 90 minute journey begins and ends in Byron Bays sub-tropical woodlands, filled with an abundance of native flora and fauna. (from Adrenaline)

Horse Trail Ride, 60 Minutes – Byron Bay Explore the beautiful sub-tropical woodlands of Byron Bay on horseback. Ride through the native tea tree swamp while you navigate water on some parts of the trail and get a glimpse of the regions incredibly diverse flora and fauna. (from Adrenaline)

Horse Trail Ride, 90 Minutes Forest to Beach – Byron Bay Embark on a spectacular horse trail ride through beautiful sub-tropical woodlands before arriving at Belongil Beach. Here you can trot along the secluded shoreline, observe bird life and marvel at the crystal clear waters, enjoying views back toward the lighthouse and out to Julian Rocks. (from Adrenaline)

Tours to Book Online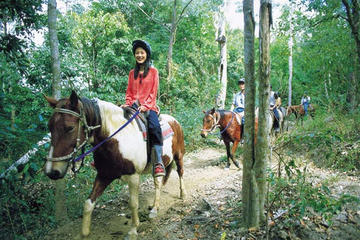 Horse Riding Tour from Cairns, Cairns and Palm Cove
Explore sugarcane fields, rainforest and mangroves on a horse-riding tour from Cairns, Palm Cove or the Northern Beaches. Perfect for beginners or experienced riders, your horseback ride will take you through beautiful countryside with a stop for a 'billy' tea over a camp fire.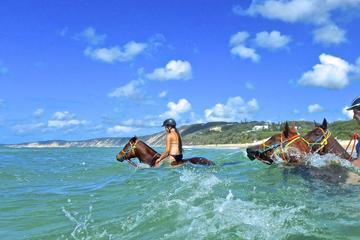 Horse Swimming Ride from Rainbow Beach, Rainbow Beach
The 'Swimming Ride' for experienced riders to take their horse for a ride into the ocean. You literally immerse yourself into nature by swimming with your horse while whales breach on the horizon and dolphins play nearby. Rainbow Beach is rated in the top five most incredible beaches in the world and the third most colorful beach in the world, with views of Fraser Island and the colored sands of Double Island Point, this is an incredible lifetime experience This is a bare back ride with previous riding experience necessary.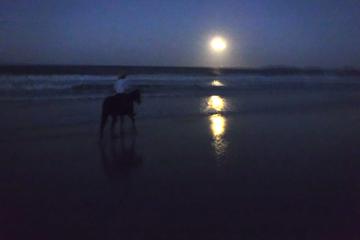 Full Moon Horse Ride at Rainbow Beach, Rainbow Beach
A truly unique experience watching the sun set, then watching as the full moon rises over the ocean whilst riding a horse along the stunning setting of Rainbow Beach. Departure time is 45 minutes before sun set and does vary each month according to the time of year.