Gold Coast Jet Boat Rides and Jet Boat Combo Packages
Experiences Book or buy Vouchers
Jet Boat Ride, 45 Minute Ocean Thrill Ride, Surfers Paradise – Gold Coast SPECIAL OFFER Are you ready for an Extreme Jet Boat Ride from Surfers Paradise? Well this is the ride for you! Maximum Jet Boat thrills without getting wet! (from Adrenaline)

Jet Boat Ride, 45 Minute Ocean Thrill Ride, Surfers Paradise – Gold Coast Are you ready for an Extreme Jet Boat Ride from Surfers Paradise? Well this is the ride for you! Maximum Jet Boat thrills without getting wet! (from Adrenaline)

Jet Boating 1hr, SPECIAL OFFER – Surfers Paradise This 55-minute Gold Coast Jet Boat Ride is full on thrills from start to finish. Travel with the first Jet Boat company on the Gold Coast! (from Adrenaline)

Jet Boat Ride, 55-minute – Central Surfers Paradise, Gold Coast Experience the Gold Coast at high speed with a jet boat ride. Travelling at speeds of up to 80 km/h you will feel the wind in your hair and have loads of fun. (from Adrenaline)

V8 Jet Boat Ride, 1-hour – Surfers Paradise, Gold Coast Experience the Gold Coast at high speed with a jet boat ride. Travelling at speeds of up to 80 km/h you will feel the wind in your hair and have loads of fun. (from Adrenaline)

Jet Boat Ride & Helicopter Flight – Central Surfers Paradise, Gold Coast Enjoy Gold Coast views from the air aboard a scenic helicopter flight and from the water aboard an exhilarating jet boat ride on Gold Coast's famous Broadwater waterways. (from Adrenaline)

Tours to Book Online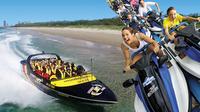 Gold Coast Combo: Jet Boat Ride and Sea World Theme Park Admission, Gold Coast
Choose this Gold Coast combo and save by combining a 55-minute jetboat ride with admission to Sea World theme park. Zip around on a high-octane jet boat ride combining speed driven fun with sightseeing as you spin around doing 360-degree spins, power slides and other tricks. Then, on either the same day or on a day of your choice (activities can be taken on separate days) visit Sea World and experience the exciting range of rides, shows, attractions and marine animal displays. Free Surfers Paradise hotel pick up/drop off included!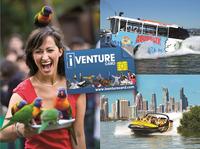 Gold Coast Attraction Pass Including Currumbin Wildlife Sanctuary and Paradise Jetboating, Gold Coast
Want to visit the Gold Coast's top attractions? A Gold Coast attraction pass is a smart travel companion offering entry to more than 35 attractions and experiences that allows you to enjoy savings on a range of tours, attractions and experiences. Jump on action-packed thrill rides, relax on a leisurely sightseeing cruise, or visit popular cultural attractions. Choose a pass that is valid for 3 months and good for a specific number of attractions, or you can opt for an unlimited number of attractions to be visited within a short time period.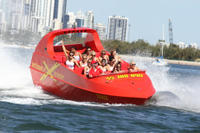 Gold Coast Jet Boat Ride: 55 Minutes, Gold Coast
Brace yourself and hold on for an exhilarating 55 minute jet boat thrill ride on the beautiful Gold Coast Broadwater. Jump aboard a powerful turbo-charged Jet boat for an adrenalin-packed ride, full of 360-degree spins, slides and shallow-water skimming.
Experience OZ

See activities in Brisbane, Gold Coast, Sunshine Coast and Hervey Bay from ExperienceOZ