Package Tours in Queensland Australia
Package tours which include accommodation can be a great way of seeing Queensland.
Tours to Book Online
2-Day Reef and Rainforest Package Combo: Green Island Cruise and Kuranda Day Trip, Cairns and Northern Beaches
Your 2-Day Reef and Rainforest Package Combo will take you to the two extremes of Tropical North Queensland during your stay in Cairns. Spend a day discovering the Great Barrier Reef on a cruise to Green Island. Your second day sees you exploring the rainforest with a trip on the Kuranda Scenic Rail and the Skyrail.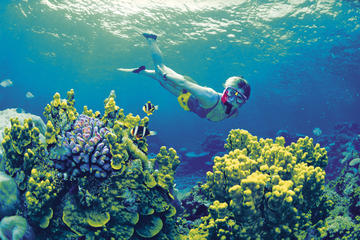 4-Day Cairns and Great Barrier Reef Tour, Cairns
Spend the day on the spectacular Great Barrier Reef, visit an Aboriginal culture park and ride the Skyrail Rainforest Cableway to Kuranda on this fabulous four-day Cairns city stay. Go snorkelling on the Great Barrier Reef, shop at Kuranda markets and ride a historic train through ancient rainforest. With plenty of free time to spend in Cairns, this four-day city stay brings you the best of Far North Queensland in one package!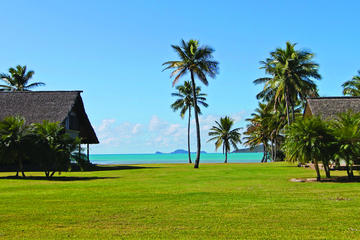 2-Night Whitsunday Islands Catamaran Cruise with Resort Stay from Airlie Beach, Airlie Beach
Choose this ultimate Whitsunday Islandsadventure package perfect for those who would like to spend their days exploring the stunning Whitsundays and then relaxing in a resort by night. This multi day includes 2 nights accommodation at the exclusiveParadise Cove Resort, plus two days exploring the Whitsundays on thefast and fun 'Wildcat Catamaran'.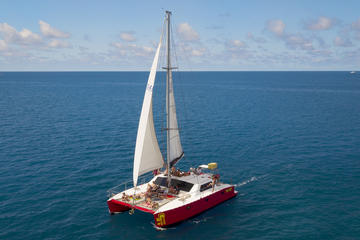 2-Night Whitsunday Islands All-Inclusive Sailing Tour from Airlie Beach, Airlie Beach
Experience Tongarra, a custom built catamaran that offers an on-board living and sailing experience that is hard to match, enabling you to see the best of the Whitsunday Islands.Tongarra is ideal for singles or groups and is geared towards the young, fun-loving, adventurous backpacker (with a sense of humour). Spend 3-days, 2-nights exploring Whitehaven Beach and Hill Inlet Lookout, with your local, professional guide. Your group is a maximum of 24 passengers per trip.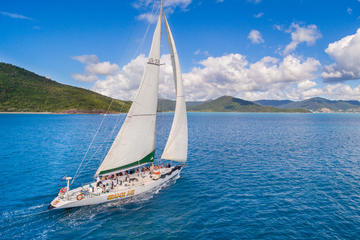 2-Night Whitsundays Sailing Cruise Aboard 'Spank Me' Including Whitehaven Beach and the Great Barrier Reef, Airlie Beach
Spank Me Whitsundays 2 day/2 night adventure tour explores the World Heritage-listed Whitsunday Islands, visiting Whitehaven Beach and snorkeling the fringing Great Barrier Reef. You can help the crew and pull up the main sail, otherwise relax on the spacious deck and enjoy the view of the pristine Whitsunday Islands. The 82-foot sailing vessel Spank Me Whitsundays caters to guests between 18 and 35 years old and the young at heart. She Sleeps 26 guests and 3 crew in open plan bunk rooms with mixtures of single and double bunks. All meals are freshly prepared on board and include roast chicken, spaghetti bolognese, wraps, continental breakfasts, fresh breads, green salad, pasta salads plus loads more, you wont go hungry!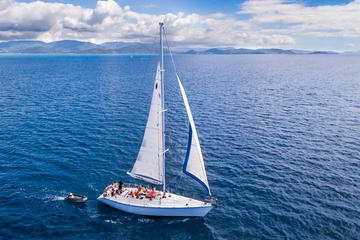 2-Night Small-Group Whitsundays Sailing Adventure Aboard 'Mandrake', Airlie Beach
Mandrake Whitsundays takes 14 guests around the islands for 2 days and 2 nights, allowing you to snorkel the coral fringed Islands and explore the spectacular Whitehaven Beach, with such a small group of guests Mandrakes tour is one of relaxation mixed with some awesome sailing. Mandrake caters to guests of all ages. She sleeps 14 guests and 2 crew in a mixture of open plan bunks and doubles. All meals are freshly prepared on board and include home cooked roast with trimmings and gravy, spaghetti bolongnese, pies, fresh meats, salads, breads, fruits, dips and crackers Plus loads more! You wont go hungry!