Whitsunday Experiences & Adventure
Courses, Experiences, Tours – More things to do
Hidden Gems Explorer – E-Mountain Bike & Palm Bay Resort Experience the best of the Whitsundays, including visiting two of the Whitsunday Islands, the secluded Palm Bay Resort on Long Island, as well as South Molle Island with the only island Mountain Bike trail on an Electric Mountain Bike. (from Adrenaline)

Whitehaven and Bike Adventure Experience the best of the Whitsundays, including visiting two of the Whitsunday Islands, the World Famous Whitehaven Beach, as well as self-guided mountain biking on South Molle Island with the only island Mountain Bike trail. (from Adrenaline)

Guided Electric Mountain Bike & Two Island Experience, Whitsunday Coast See the best of the Whitsundays on the road less travelled! Includes cruising around the islands, Daydream Island and Famous Living Reef Lagoon Fish Feeding tour PLUS Guided Electric Mountain Bike Tour of South Molle Island! (from Adrenaline)

Aquaduck Amphibious Tour, 1 Hour – Airlie Beach Aquaduck combines the best sights of Airlie Beach into one fun tour. A 1hour tour on the amphibious Aquaduck Croc Bus, combining an informative tour through town and boat cruise in one exciting ride. See the key landmarks by road and experience the natural beauty of cruising on the Coral Sea. (from Adrenaline)

Overnight Sleep, Sail and Snorkel in The Whitsundays Overnight Sleep, Sail and Snorkel in The Whitsundays (from Adrenaline)

Tallship Sailing and Snorkelling Adventure Tallship Sailing and Snorkelling Adventure (from Adrenaline)

Segway Sunset and Boardwalk Tour including Dinner Ride your own Segway and cruise along the Whitsunday Bicentennial Boardwalk, overlooking the pristine waters of Pioneer Bay. Begin in Airlie Beach, glide along the waters edge past Abell Point Marina, through to Cannonvale Beach, and back again. (from Adrenaline)

Segway Rainforest Discovery Tour Ride your own Segway and cruise along the Whitsunday Bicentennial Boardwalk, overlooking the pristine waters of Pioneer Bay. Begin in Airlie Beach, glide along the waters edge past Abell Point Marina, through to Cannonvale Beach, and back again. (from Adrenaline)

Cultural Guided Tour – Eurimbula National Park, Whitsunday Islands Cultural Guided Tour – Eurimbula National Park – Adult (from Adrenaline)

Bustard Bay and Lighthouse Guided Tour, Whitsunday Islands Bustard Bay and Lighthouse Guided Tour – Adult (from Adrenaline)

Adventurous 2 night sailing package Visit some of the best sites in the Whitsundays including Whitehaven Beach and Hill Inlet Lookout. (from Adrenaline)

Whitsundays Day Cruise Exhilarating day cruise around the Whitsunday Islands. (from Adrenaline)

Ride to Paradise – 2 Night Paradise Cove Resort and Activities Package This is the Ultimate 2-night resort trip to the Whitsundays! (from Adrenaline)

Tours to Book Online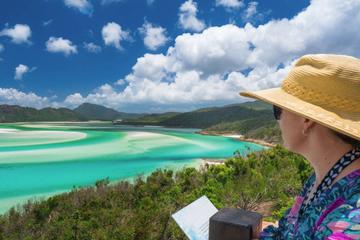 Whitehaven Beach Cruise Including Hill Inlet Walk, Whitsundays
Spend a full day exploring Whitehaven beach, one of the most beautiful beaches in the Whitsunday Islands. You'll enjoy a guided hike to Solway Circuit Lookout and chance Bay, and take a leisurely hike to Hill Inlet lookout where you get a famous view of Whitehaven beach! Swim away from the crowds, and have time to lounge on the beach. Your day trip includes a guide, lunch and afternoon tea with a group tour limited to 32 people.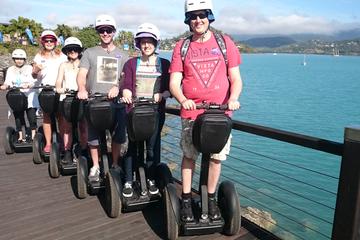 Whitsundays Segway Combo: Sunset Segway Tour and Segway Rainforest Discovery, Whitsundays
Combine two Segway tours during your stay in the Whitsundays. Spend a morning exploring the Whitsunday Conway National Park on your Segway and spend an afternoon gliding on your Segway along the Whitsunday Bicentennial Broadwalk before stopping to enjoy delicious Tapas at sunset. You have the option to take both tours on the same day or on different days. Booking this combo deal offers a saving of over 10% on two great Segway Tours.