Sightseeing Tours Darwin Northern Territory
See Darwin from the air, from the water, on a bus or scooter or on foot.
Tours to Book Online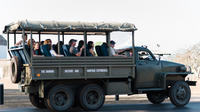 Darwin History and Wartime Experience Tour, Darwin
Looking to see Darwin differently? Explore Darwin and its rich wartime history with a guided tour from the back of a WW2 truck! On this 90-minute experience, you'll pass many of the city's most important historical sites, including Government House, the East Point gun battery and military precinct, the 1934 QANTAS hangar, Stokes Hill oil storage tanks and tunnels, Fort Hill Wharf, and Darwin Harbor. Your guide will tell you about the history of Darwin from the early explorers to the WW2 bombing of the city by the Japanese, and will recount the Cyclone Tracy in 1974 and more. An optional stop can be made at the East Point Military Museum (entry fee not included). Choose from four departure times when you book. Tour vehicle can carry a maximum of 18 people per tour.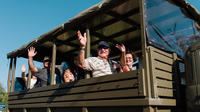 The Darwin History and Wartime Experience – Half day tour, Darwin
Do Darwin Differently! Enjoy Darwin from the back of a genuine WW2 truck.
Enjoy Darwin in a small group from your comfortable seat in this magnificently refurbished vehicle.
This tour features informative expert commentary from your tour guide as you explore the city of Darwin. You'll learn about how Darwin was founded and developed, discover bullet holes in war damaged buildings, learn about Cyclone Tracy at the Museum and Art gallery of the Northern Territory and visit the QANTAS hangar to explore its history, bomb damage and vintage collection. You'll then head to the Aviation Heritage Centre where you'll learn about the air races of the 1920's and 30's; the air war fought in the skies overhead as well as marvel at Japanese and American WW2 aircraft wreckage, a B52 bomber, F111 fighter, Spitfire replica, helicopters and much, much more!
This tour is for small groups – a booking of 10 more people is required for tour to proceed (maximum 18 passengers).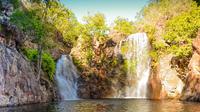 Litchfield National Park Waterfalls Day Trip From Darwin Including Termite Mounds and Lunch, Darwin
A beautiful wilderness exists just an hour out of Darwin offering plenty of activity for adventurous travelers as well as a relaxing escape for those just wanting to get out of the city. Litchfield National Park is 1500-square kilometers of waterfalls, stunning landscape and Top End flora and fauna. This 1-day tour to Litchfield National Park gives you an insight into the history of Darwin and its surrounds as well as the chance to swim and hang out at some of best waterfalls the park has to offer. You can learn about the endemic flora and fauna with your guide and spot some of the local wildlife that makes Litchfield their home.