Gourmet Food & Winery Tours Hobart & Tasmania
Tours to Book Online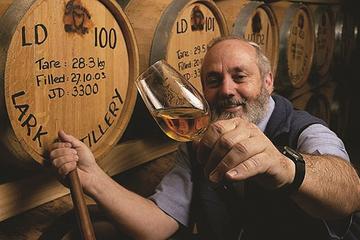 Private Tour: Tasmanian Whisky Distilleries by Helicopter from Hobart, Hobart
Discover the fine whiskys of Tasmania during a 4.5-hour private helicopter tour from Hobart. While an experienced pilot provides informative commentary about the region's landmarks, you'll fly to three distilleries in the state: Redlands Distillery, Nant Distilling Company and Lark Distillery. Learn about the craft of producing Tasmanian whisky during distillery tours, and enjoy three tastings and one appetizer plate. You also have the option to end your tour with lunch at Frogmore Creek Winery (own expense). Includes hotel pickup and drop-off.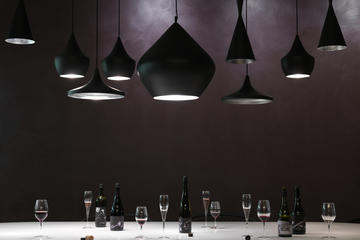 Hobart Posh-As Day Out Including Moorilla Estate, MONA, and 2-Course Lunch at The Source Restaurant, Hobart
Indulge in a VIP day out with this 8-hour Hobart tour that combines wine and art. This 'posh-as' package includes round-trip ferry transport from the Brooke Street Pier, admission to Hobart's renowned Mona (Museum of Old and New Art), two courses at The Source restaurant with Moorilla wine pairings, a private tour of Moorilla's cutting-edge winery,an intimate tasting in David Walsh's private subterranean barrel roomwith a winery ambassador, and a bottle of Muse pinot noir to take home.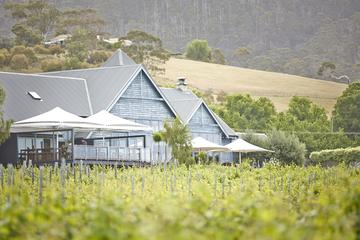 Frogmore Creek Winery by Helicopter with Optional Lunch, Hobart
Enjoy a scenic helicopter flight from Hobart to Frogmore Creek Winery for a Tasmanian wine tasting and optional lunch. Take in amazing views of Hobart landmarks like Mt Wellington, the River Derwent and the Tasman Bridge, and then soar over the Coal River Valley and land right in front of the winery. After sampling Frogmore Creek's cool-climate wines, you have the option to stay for a while longer for lunch at the winery before returning to Hobart. Lunch includes fresh local produce and other seasonal fare, accompanied by a bottle of wine; choose this upgrade option when booking.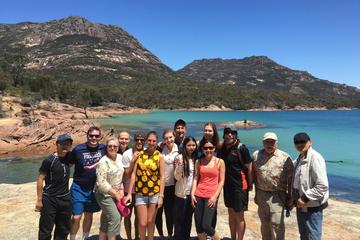 Full-Day Tour One-Way from Hobart to Launceston with Freycinet National Park, Hobart
An action packed tour day from Hobart to Launceston via the world famous Wineglass Bay and the East Coast. This tour features stunning Coastal landscapes while visiting Freycinet National Park. Freycinet is one of Tasmania's first National Parks, famous for its spectacularcoastal landscapes. Pink Granite Mountains form the backdrop for secluded bays, pristine waters, white sandy beaches, local wildlife and amazing walking trails. Spend about 4-hours within the National park and then travel on to The Freycinet Marine Farm for all those seafood lovers. Make a final stop at the Devils Corner Winery. This new attraction on the East Coast has amazing views, gelato, fresh seafood including oysters, and of course wine tasting. Arrive intoLaunceston around 6:30pm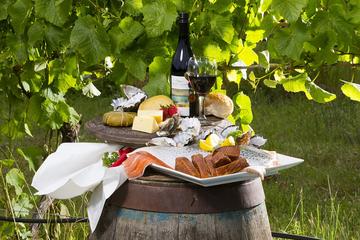 Bruny Island 7-Course Gourmet Day Trip from Hobart, Hobart
Enjoy the bounty of Bruny Island on a full-day gourmet food tour that introduces you to seven local producers. You'll enjoy seven courses that include premium cheeses, oysters, berries (in season), wine, whiskey and chocolates, along with a lovely winery lunch. Have time to appreciate the island's stunning scenery during stops at historic Two Tree Point in Adventure Bay, the Bruny Island Neck, white-sand beaches and privately owned reserves home to rare white wallabies. You can expect enough food and drink to satisfy a hearty appetite on this all-inclusive tour from Hobart.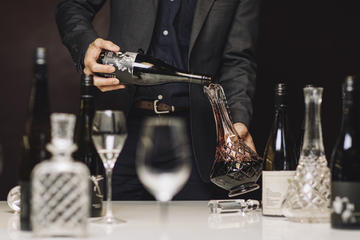 Private 90-minute Moorilla Estate Winery Tour with Tastings and Free Wine Gift, Hobart
Take an exclusive 90-minute private tour of Tasmania's second-oldest vineyard and its state-of-the-art winery, hosted by one of Moorilla's resident wine experts.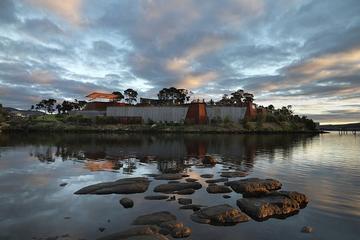 Moorilla Estate Winery Tour Including Wine Tasting, Lunch and Mona Admission, Hobart
Experience a wine tasting, lunch and museum like no other on a day trip to the sensational Moorilla Estate. After an entertaining ferry ride, start by perusing the world-class art collection at the Museum of Old and New Art (Mona), housed in an architecturally stunning labyrinth below ground. Then enjoy a delicious seasonal lunch, followed by a behind-the-scenes tour and tasting at Moorilla Winery. Don't miss the chance to discover for yourself why the six-acre estate has landed on best of lists since opening in 2011.