Tours in Hobart and Tasmania
Tours to Book Online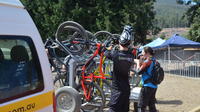 Maydena Bike Park, Hobart
Maydena Bike Park is fast becoming one of the best mountain bike parks in the world. Located in the village of Maydena about an hour from Hobart. Trails have been built for all levels and includes an uplift service, mountain bike hire, lessons and restaurants.
Hawthorn Lodge offers a one night package where we pick you up at Hobart airport or in Hobart with accommodation. The pick up time is flexible to suit you but suggest in the morning around 8.30am to allow you to have a full day at Maydena Bike Park. The return is flexible but by leaving at 5pm you then have two full days at Maydena Bike Park. Transport includes bringing your own bike.
Hiring a mountain bike is possible at the bike park. Tickets for the uplift service have to be pre-booked direct with Maydena Bike Park. For the trails tickets can be bought on the day.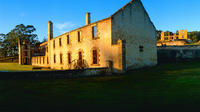 Small-Group Historic Tasmania Day Tour Including Port Arthur, Hobart
The Tasman Peninsula and Port Arthur Historic Site are some of Tasmania's most visited destinations. Explore Tasmania's famous convict settlement site with its many attractions on this small group day tour and let our experienced guide bring its history alive. Visit the famous geological features of the peninsula as you explore the rugged coastline. In the afternoon, travel to the historic village of Richmond, nestled in the Coal River Valley, with its well preserved colonial architecture before returning to Hobart.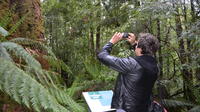 Tall Trees Tour, Hobart
The Tall Trees Tour takes you into the world's highest ranked world heritage area, the Tasmania Wilderness World Heritage Area. Taking forest roads deep into the hidden Styx Forest we discover the world's tallest hard wood trees. A journey that provides changing views as we climb high up into the mountains and descend down to the Styx river.We walk among the tall trees for a short distance with plenty of chances to take photos of trees around 90 metres tall. The tall trees feature in David Attenborough's recent TV show on Tasmania.We finish with a cream tea at the heritage listed Hawthorn Lodge where you are free to enjoy the gardens and view the surrounding hop fields.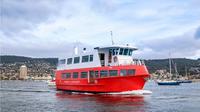 Derwent River Historic Harbour Cruise From Hobart, Hobart
Hobart Historic Cruises organises and operates the Derwent River harbour cruise tour, providing quality service to both global tourism and participating delegates.
We have highly experienced crew members and also provide a boat charter service on our vessel Spirit of Hobart'.
The company, which has been running the Derwent River harbour cruise tour for more than 30 years, has an excellent track record.
We provide a first class service at affordable prices, which are highly competitive.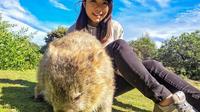 Wineglass Bay And Maria Island Wildlife Scenic Flight From Hobart, Hobart
Experience the spectacular scenery of the East Coast of Tasmania from the air and ground. The tour will overfly the Freycinet Peninsula and Wineglass Bay before landing at Maria Island, here you'll explore and interact with the local wildlife and enjoy some of Tasmania's finest produce before flying back to Hobart.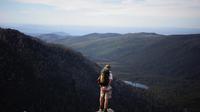 Mount Field Wilderness Walk – A Day in the South West – Departs Hobart, Hobart
A day hiking trip at Tasmania's oldest National Park. Explore the Tarn Shelf with unique ecology, alpine and glacial lakes. Wander the rainforest, waterfalls and walk beneath some of the world's tallest trees. Two of Tasmania's great short walks. Enjoy with morning tea at a local farm, picnic lunch in the mountains and finish the day with an afternoon wine. Departs Hobart Tuesday and Friday.