Fremantle Tours & Experiences WA
Tram tours, hop-on hop-off bus tours, cruises, flights and more.
Experiences Book or buy Vouchers
Convicts and Colonials Two Hour Guided Tour – Fremantle On this two hour walking tour, your guide will tell you fascinating local stories as you wander through Fremantle's vibrant cappuccino strip, boat harbours and beyond. (from Adrenaline)

Arcades & Laneways 2.5hr Guided Adventure – Perth Explore the history-filled arcades and laneways of Perth in this guided tour (from Adrenaline)

Extreme Whale Watching – Fremantle, Perth Jump aboard the fastest, most exciting Whale Watching Cruise in Perth! (from Adrenaline)

Jet Boat Ride – Fremantle, WA After venturing out of the Harbour speed restricted zone we unleash the full power of the jet at nearly 75km/h, with a continual mix of 360 degree spins, fish tails and powerbrake stops. (from Adrenaline)

Helicopter Scenic Flight, Shared Scenic Beaches Flight, 30-minute – Perth Your 30 minute flight will take you past the white sands and turquoise waters of the Western coastline of Perth, then Fremantle Port to the recreational hot spot Scarborough. (from Adrenaline)

Helicopter Scenic Flight, 15-minute Fremantle Flyer – Perth Get a spectacular panoramic view of Perth City, King's Park and down along the River to the beautiful and historic port city of Fremantle and return. (from Adrenaline)

Tours to Book Online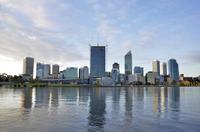 Perth and Fremantle Tour Including Fremantle Prison and Dinner, Perth
Take a guided tour from Perth to Fremantle following the Swan River. See some of Perth's most expensive real estate on a relaxing drive along the river, visit Fremantle Prison, the Victorian Fremantle Markets, including a visit to the The Round House and enjoy a delicious dinner at the Fremantle Fish Markets. You'll also stop at Sir James Mitchell Park for spectacular views of Perth city.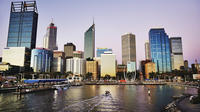 Half Day Perth & Fremantle Highlights, Perth
Start your journey with a hotel / accommodation / cruise terminal / airport pick up at 09:30hrs or 14:00hrs. Sit, enjoy and relax while you driver / guide takes around the city main attractions. Drive through Perth City sights including, Bell Tower, Victoria Quay, Perth Mint, Crown Casino, Perth's cultural and entertainment Centre of Northbridge, exclusive King's Street, His Majesty's Theatre and Perth Arena. Stop at kings Park to enjoy (photos) spectacular views of the Swan River, Perth City Skyline and Perth Hills from the War Memorial and botanical gardens. Proceed driving along the Swan River exclusive residential areas on our way to Cottesloe Beach, set along the turquoise waters of the Indian Ocean. Proceed to the Historic Victorian Port of Fremantle. Then we make our way back to Perth City through South Perth, Perth's old windmill, and to enjoy amazing views of Perth city across the Swan River. Back to hotel.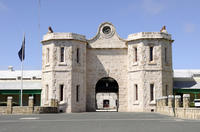 Perth Shore Excursion: History of Fremantle Walking Tour, Perth
When your ship docks in Fremantle, take a shore excursion for a walking tour through the dynamic port city-known for its historical sites, well-preserved architecture and a vibrant arts and restaurant district. you'll see Fremantle Prison, the Roundhouse, Town Hall, and the Cappucino Strip with an expert local guide sharing stories and insider knowledge about this lively city with a relaxed and alternative ambiance.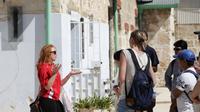 Small-Group History of Fremantle Walking Tour, Perth
Discover the historic port city of Fremantle, just south of Perth, on a small-group walking tour. Wander the old streets and laneways, and learn about Fremantle's rich, diverse history that is reflected in its colorful inhabitants, great food and well-preserved architecture. End your tour on the vibrant Cappuccino Strip, the city's lively stretch of popular restaurants and cafes. This tour is limited to just 12 people, providing a small-group atmosphere to explore with a local guide.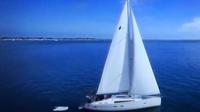 Rottnest Island Sailing Day Trip from Fremantle Shared Boat, Fremantle
Rottnest is a must see destination when visiting Western Australia. Now you can get there in luxury on our sailing yacht. We specialise in small groups and we offer an amazing experience to Rottnest Island onboard our new 51 foot yacht Jazzia. Getting there using the wind is the highlight of this spectacular destination sail. Rottnest Island is Perth's aquatic playground where you can take a famous selfie with a quokka!  Guests can steer the helm to Rottnest which takes about 2.5 hours, thats right! Our guests will learn to sail on the way to Rottnest Island. On the way dolphins are regularly seen on the bow and humpback whales during whale season.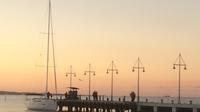 Sunset Sail Cruise out of Fremantle, Fremantle
Experience a an Indian Ocean sunset onboard a luxurious private yacht. with a maximum of 12 people only you will rejuvinate your soul as Jazzia sails silently and effortlessly through the water. In this 2 hour sail we see dolphins regularly on the bow, so its worth going forward to the bow to check every now and then.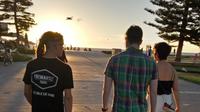 Go where the locals go on our Fremantle bar tour, 4 venues with drinks included, Fremantle
Come along on a  Fremantle Tours DRINK tour to discover the best of Fremantle's brilliant bars, great cocktails and reincarnations of some old favourite spaces. Fremantle boasts numerous new bars, restaurants and cafes but how do you know which ones are worth a visit? Or keep track of the newest microbrewery or bar that's opened? Now you don't have to, LET US SHOW YOU!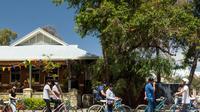 Explore Freo the local way on our 3 hour bike tour!, Fremantle
Do as the locals do. When you're in Freo that means cruising the streets on a retro bike, checking out the latest cafes and bars whilst appreciating the beauty of our great port city, Fremantle! Join a  Fremantle Tour today! Come and see the best Freo has to offer on our 3 hours bike tour. You will experience the rich history of our port city, from our 40,000 years of indigenous culture, early European exploration, British colonisation, convict history through to the modern café and alternative culture we have today. Get an insight into the local spots, our rich past, vibrant present and exciting future! Our cruisy pace means that we can enjoy all the sights and sounds of Fremantle with frequent stops for photographs, stories, history and tips on the best spots for you to truly enjoy the best Freo has to offer. All our tours have a maximum of 10 people so we can get to know you all.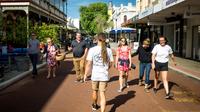 Come and see the best Freo has to offer on our 2-hour walking tour!, Fremantle
Experience the true local side of our great port city by hitting the pavement and walking our beautiful streets. Our vibrant city has so much to offer from hip and hidden cafes, brilliant bars, delicious restaurants and street art to its rich history as a trading place for over 40, 000 years. That tradition has continued and diversified to give us the thriving cultural hub Fremantle is today. From the oldest building in Western Australia, the Roundhouse, to the newest bars and cafes, here at Fremantle Tours will show you it all!  Our comfortable pace means that we can enjoy all the sights and sounds of Fremantle with frequent stops for photographs, stories, history and advice on the best spots for you to truly enjoy the best Freo has to offer. We travel about 4km (2.5 miles). All our tours have a maximum of 10 people so we can get to know you all. We think less is more and we can all have a better time for it!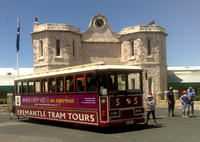 Fremantle Hop-On Hop-Off Tram Tour, Perth
See Fremantle in style on board a vintage-style hop-on hop-off tram, and choose from three tour options. Enjoy the tram tour, add a scenic Swan River lunch cruise, or combine the hop-on hop-off tram tour with a guided tour of the World Heritage-listed Fremantle Prison.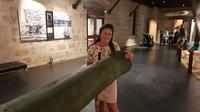 Fremantle History Tours with Complimentary Restaurant Lunch, Fremantle
Experience Fremantle, the city of culture and history. Fremantle was founded in 1829 and was originally known as The Swan River Colony. It was to be known as the "free settlement" and to take its first arrival of four hundred settlers that arrived on the HMS Sulphur captained by Charles Fremantle in June 1829. This is exciting to us and we would like for you to share the experience and learn about the history of Fremantle with our Fremantle Walking Tour. The walking tour will be a gentle 4 hours (approximately) tour where you will experience the 19th century Fremantle architecture, WA Shipwreck Museum, WA Maritime Museum and the original jail now known as the round house. We will finish our tour with a complimentary lunch at one of the sea side restaurants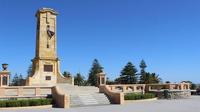 Fremantle Historical Bus Tour, Perth
Join this small group tour in Fremantle for a 90 minute informative bus tour of Western Australia's most historically significant town. Hosted by long-time Fremantle local, Peter. He will take you through historically significant sites dating back to 1829. You might even learn a few secrets that you may have missed in the history books.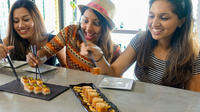 Fabulous Fremantle Frolic Adventure, Fremantle
Uncover the hidden side to this popular port city on a 3 hour walking tour hosted by a passionate local guide. Explore out-of-the-way venues you'd probably never come across on your own, revel in the unique culture and history of the area and – most importantly – experience some of its most delicious food & drinks! Quirky cafes, sensational sushi, cracking coffee, amazing cheese, great bars and fantastic drinks – Freo (as the locals call it) really does have it all when you know where to look.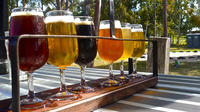 Full-Day Perth, Fremantle, Swan Valley Brewery, Perth
Packed full of the essential, must-see iconic Perth locations and experiences including WA's oldest wine making region, iconic Cottesloe Beach, historic Fremantle and beer-tasting in the Swan Valley.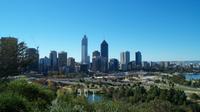 Full-Day Perth, Kings Park, Swan River and Fremantle Cruise, Perth
Enjoy some of the most popular highlights of Perth City and the stunning Kings Park. This essential tour also showcases the eclectic and cosmopolitan hub of Fremantle and includes a Swan River cruise. Explore Perth and Fremantle's weekend markets.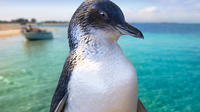 Full-Day Penguin Island & Fremantle Town, Perth
Two enchanting sights on this tour – Fairy Penguins and Fremantle – our culturally rich port city.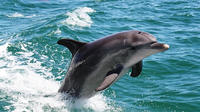 Full-Day Mandurah Dolphins, Chocolate & Fremantle Tour, Perth
A wonderful way to experience nature, learn some local history, and feast on delectable treats, as you visit some famous iconic Perth destinations and wildlife. Meet our friendly dolphins, see magnificent Estuary homes and experience the wonder of Fremantle.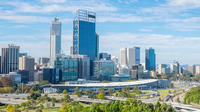 Full-Day Perth, Fremantle, Swan Valley & Wildlife Park, Perth
Packed full of the essential, iconic Perth and Fremantle locations, the Swan Valley and Cottesloe Beach. Meet kangaroos, koalas and other Aussie native animals.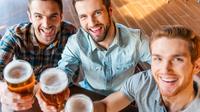 Fremantle Craft Beer Tour and Swan River Sightseeing Cruise from Perth, Perth
Love beer? Fremantle has quickly become a haven for beer enthusiasts and what better way to immerse yourself in beer than with a Fremantle craft beer tour and cruise along the Swan River from Perth.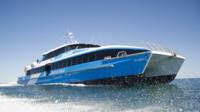 Fremantle to Rottnest Island Roundtrip Ferry Ticket, Fremantle
Departing daily from Fremantle, SeaLink Rottnest Island provides a excellent value ferry service to Perth's favourite island paradise, Rottnest Island. With hospitality trained staff on board you can expect premium customer service and a friendly smile to welcome you. Choose from 3 different departure times which allows you to customize your day at Rottnest Island.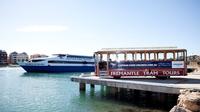 Perth Lunch Cruise including Fremantle Sightseeing Tram Tour, Perth
Escape Perth's hustle and bustle, and combine a lunch cruise around Perth with a sightseeing tram tour of the Port of Fremantle. You'll cruise down the Swan River before joining a tram tour around the historic port of Fremantle then rejoin your cruise and enjoy a buffet lunch before arrive back into Perth.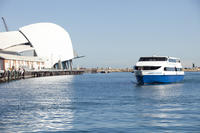 Fremantle Lunch Cruise, Perth
Enjoy a relaxing cruise along the Swan River and enjoy a delicious buffet lunch of local seafood, continental meats and salad. This is the perfect way to enjoy lunch and take in the views of Perth and her surrounds.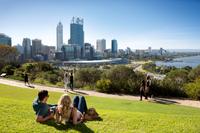 Perth and Fremantle Tour with Optional Swan River Cruise, Perth
See the sights of Perth and Fremantle on an attraction-packed half-day tour that takes in the city and beaches. you'll see panoramic views over Perth from Kings Park, admire Cottesloe's long golden beach and tour Fremantle's historic buildings and harbor setting. You also have the option to take a cruise back to Perth from Fremantle along the Swan River.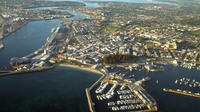 Fremantle Self-Guided Audio Tour, Fremantle
Download a vibrantly-narrated mp3 audio guide combined with a map detailing the area of your tour. This enchanting audio guided tour of Fremantle will take you on a culturally significant journey where you will see sights such as fascinating Shipwreck Museum and the bustling Fremantle Market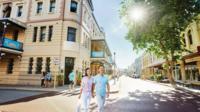 1-Day Private Perth and Fremantle Tour, Perth
Treat yourself to this highly personalized service, tailored to your personal preferences, interests and schedule. Your tour will be meticulously planned to ensure that every detail, from your transport schedule to your itinerary is expertly managed. On the day you can change where you want to go and how long you want to stay depending on how your group is feeling. It is totally flexible and you are free to change any detail.