Sunshine Coast Theme Parks & Attractions
The Sunshine Coast is quieter than the Gold Coast but it still has some major attractions.
Experiences Book or buy Vouchers
Underwater World SEA LIFE Mooloolaba Aquarium Entry Underwater World SEA LIFE Mooloolaba, located in central Mooloolaba in the heart of Queensland's famous Sunshine Coast region, is the area's top attraction for the family. (from Adrenaline)

Tours to Book Online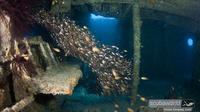 Dive the world famous ex-HMAS Brisbane wreck, one of Australia's top dive sites, Sunshine Coast
As you approach the forward gun, clownfish dash from their colourful, cascading anemones to greet Scuba World's excited divers; blue and green wrasse join the celebration in a colourful display. Watch Out! Copious octopus eyes watch your every move; scorpion fish smoothly disguise themselves in the all-encompassing coral growth, concealing every inch of the mighty warship. Can YOU uncover their magnificent camouflage abilities?
Venture inside to find majestic lion fish and puffers graciously moving with the gentle flow of the ocean. Massive schools of shiny bait fish part way as you swim through the spacious, awe inspiring sanctum that is the engine and boiler room. Will you jump with fright coming face to face with one of the many, massive, mysterious Queensland Groupers within the wreck?
The sandy sea floor is home to flathead, hermit crabs, the occasional lazy leopard shark or shovel nose ray and spectacular soaring bull rays.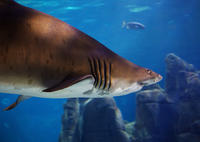 SEA LIFE Sunshine Coast Aquarium Entrance Ticket with Shark Dive Xtreme, Sunshine Coast
See gray nurse sharks on the Shark Diving Xtreme experience at SEA LIFE, one of the most popular attractions on the Sunshine Coast. Suit up with scuba training, then take a 30-minute swim with sharks, rays, turtles and tropical fish under close supervision in an area much like their natural habitats. you'll also have entry to the aquarium's 11 exhibit zones to explore at your leisure, from sharks and seals to otters, rays and turtles.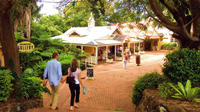 Montville High Tea and Wine Tasting Day Trip from Noosa or Mooloolaba, Mooloolaba
This tour is for real foodies – join us for a fancy high tea and wine tasting. This full day tour involves a fabulous high-tea at Flaxton Gardens, a visit to Montville village, afternoon tea beside a lake, wine and cheese tasting at Flame Hill Winery and a visit to the Yandina Nutworks.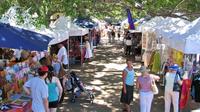 Eumundi Market Roundtrip Shuttle from Mooloolaba, Noosa Heads or Noosaville, Mooloolaba
Experience Australia's premier Eumundi market, which is absolutely buzzing on a Saturday. Come and enjoy the enchanting experience of the world famous Original Eumundi Markets – renowned for locally made artisan treasures. Open rain, hail or shine.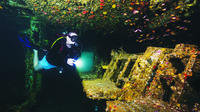 HMAS Brisbane Dive, Mooloolaba
:
Opt to dive into the wreck of the HMAS Brisbane, a decommissioned guided missile destroyer that was scuttled 2.9 nautical miles off the Sunshine Coast,
Light snacks on board, as well as hot snacks on return,
HMAS Brisbane dive includes tanks and weights with other gear available for hire at additional cost,
Available 7 days a week,
.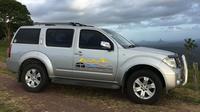 Private Tour of Sunshine Coast and Noosa by 4WD, Mooloolaba
Want to explore the beautiful Sunshine Coast and Noosa area on a totally relaxed and laid-back guided tour? If so, a Sunshine Coast and Noosa private tour is exactly what you're looking for!We offer a fantastic full day or half day private tour. More than enough time to get a real overview of how stunningly beautiful and fun-filled this area really is. We understand that not everyone wants to head out for the day with other groups, and instead, they prefer to enjoy the peace and serenity of exploring with close family or friends. Group tours are certainly fun-filled, but for larger groups, or for those craving a personalised adventure, a private, guided tour is the choice to make.
Eumundi Market, Gympie Gold Mining and Historical Museum and Wine Tasting Day Trip, Mooloolaba
Browse Australia's premier artisan market then journey to historic Gympie, the heritage city!This full day tour involves visiting the legendary Eumundi Markets followed by a scenic road journey before stepping back in time in historic Gympie.
Departs every WEDNESDAY
Price Includes
:
Free Entry to Eumundi Markets,
Entry to the Gympie Gold Mining and Historic Museum,
Lunch in the historic Gympie train station,
Wine Tasting & Cheese Platter,
.